Royalty Free Premium Seasons Image Collection - Download - Macintosh
Enjoy four seasons of glorious art. The Seasons Image Collection is a year-round clip art resource you will turn to time and time again. These images bestow the joys of spring, summer, fall and winter plus holidays, including Halloween, Thanksgivings and Christmas
Enjoy four seasons of glorious art. The Seasons Image Collection is a year-round clip art resource you will turn to time and time again. These images bestow the joys of spring, summer, fall and winter plus holidays, including Halloween, Thanksgivings and Christmas.
Over 1,000 seasonal clip art images
More than 400 backgrounds images
All royalty free and suitable for personal and business
Put the glory of the season into all of your creations. Seasonal images add a nice touch whether you are doing a personal project like a scrapbook, a business newsletter or something for your friends. Impress everyone with the lovely images in the Seasons Image Collection. Just think of all the great things you can do with these seasonal images!
Spring: Capture the glory of spring in your projects. It's easy to think spring with fanciful images of rain drops, clouds, pastel shapes, and signs that say, "Celebrate Spring", "Feels Like Spring", "Easter" "Beauty in Bloom", and more.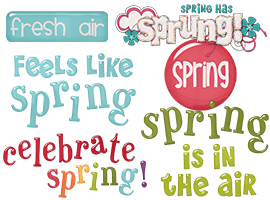 Summer: Have a look as light and airy as a summer breeze. Could this be everyone's favorite season? Decorate your projects with butterflies, flowers, mushrooms, trees and other summery images.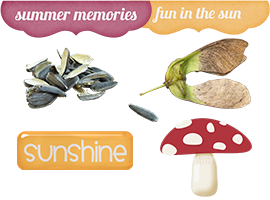 Fall: The transition from summer to winter brings out the nostalgia in all of us. Just think of family gatherings, crisp autumn air and comforting foods. A bountiful harvest of images includes acorns, chestnuts, autumn leaves, trees, books, scarecrow, crows, vines, apples, fence, fruit and toad stools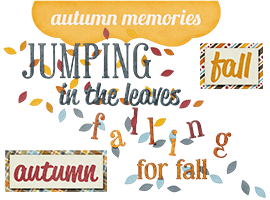 Winter: Bundle up the look of your designs with images of winter. Take your pick of ski boots, bears, snowflakes, snowballs, sleds, pine trees and snowmen to name a few.
Holidays: The holidays call for fun, festive art. Give your creations a holiday look that's just right for the occasion. Gather a feast of images that say, "Trick or treat!", "Gobble, Gobble!", and "Happy Holidays!"
Halloween: Pumpkins, Candy Corn, Owls and Carving Knife
Thanksgiving: Pilgrims, Pilgrim's Hat, Turkeys, Cornucopia, Native Americans, Bowls of Potatoes, Dinner Rolls, Pies and Turkeys
Christmas: Christmas Trees, Jingle Bells, Shining Stars, Bells, Stocking, Sleigh, Wreathes, Ornaments and other merry art
Backgrounds for the Season: Each season has its own distinctive charm and color palette. Give your project a picture-perfect backdrop. A selection of more than 400 backgrounds, wallpapers, textures, fabrics, dots, lines, scallops, bursts, wavers, leaves and other seasonal designs makes it easy. Embellish your designs even more with matching edging, clamps and clips.
What You Can and Cannot Do with Royalty Free Image Collection Images
If you are creating designs that you are selling or using as part of your business, than Royalty Free images are for you. Commercial use royalty-free images empower your design possibilities like never before by giving you the ability to sell your designs without worry! These top-quality royalty-free images give you the creative freedom to make whatever you want for just about any purpose you have even for commercial applications. That means you can use this art collection for advertisements, business brochures, posters, professional business cards and other commercial needs. These images are ideal for all of your projects whether for business or personal use. Create just about anything you want without limitations.
*Please note even royalty-free commercial use does include some no-no's. Please refrain from branding, distributing, selling or claiming graphics as your own; redistribution; download distributions; or using graphics in pornographic, racial or harmful material.
More Information

| | |
| --- | --- |
| System Requirements | Windows Vista®, Windows® 7, Windows® 8¹, Windows® 10 Pentium® II 300MHz processor or faster, 128MB RAM, 7GB hard drive space, DVD-ROM drive, keyboard and mouse. Macintosh® OS X 10.7 – 10.11¹, Intel® Core Solo processor 300 MHz or better, 128 MB RAM, 7GB hard drive space, DVD-ROM drive, keyboard and mouse. ¹Administrator privileges are required to properly install the program on Windows Vista®, Windows® 7, Windows® 8, Windows® 10 and Mac® OS X. |
| Legal Copy | A portion of the images © StoryRock, Inc. Macintosh, Mac OS and the Mac logo are trademarks of Apple Inc., registered in the United States and other countries. This product is not endorsed or sponsored by, or associated with Apple Computer, Inc. or its products or services. Any and all references to Apple® product contained herein are only to describe that this product is compatible with the referenced Apple® product or technology. Microsoft, Windows, DirectX, and/or other Microsoft products and their associated logos referenced are trademarks or registered trademarks of Microsoft Corporation in the United States and/or other countries. All other brands, marks, logos or trademarks are the property of their respective holders. ENCORE and the Encore logo are trademarks or registered trademarks of Encore Software, LLC in the United States and other countries. All rights reserved. USE OF THIS PRODUCT IS SUBJECT TO CERTAIN RESTRICTIONS AND LIMITATIONS OF WARRANTY UNDER THE LICENSE AGREEMENT CONTAINED HEREIN. YOUR USE OF THIS PRODUCT CONSTITUTES YOUR AGREEMENT TO ITS TERMS. |