The Print Shop for Macintosh - Family Edition - MAC
Design stunning print projects like never before with the brand-new The Print Shop Mac! For the newest version, we continued to pack in the most advanced advertising design tools and printing solutions for a truly incredible price. Create projects free of license limitations with over 10,000 royalty-free professional backgrounds and images, and thousands of unique royalty-free templates. Need to customize your outreach even further? Easily import personal photos, then color correct, crop, and alter them in any way you see fit to elevate your designs. With our photo editing tools, it's easy to add gradients, as well as build frames with our custom border maker.
Ready, Set, Create!
Looking for professional graphic designs that communicate your unique voice and business strategy to your clients and prospective customers? Let The Print Shop Mac new version assist you. Put together picture-perfect designs for everything from keepsake scrapbooks to seasonal cards, calendars, business brochures, cards and so much more. From start to finish, The Print Shop Mac has everything you need to make impressive projects every time. Make beautiful things happen with your great ideas and the latest features, all tailored especially for Mac users.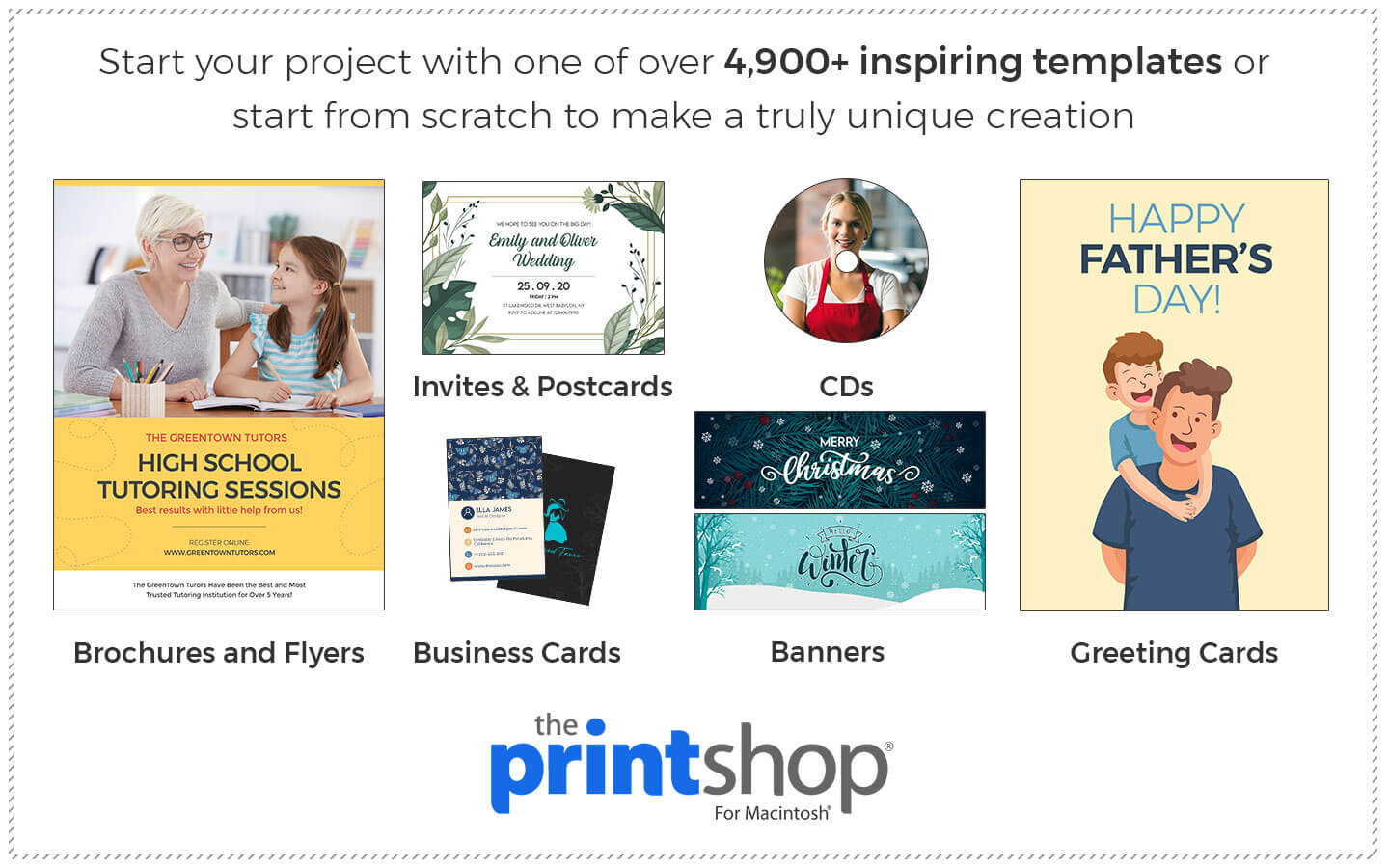 Simply build projects by either starting from one of the over 4,000 templates or create a truly custom project from scratch. Getting started is easy, with quick access to the tools you need. Modifying your layout, editing your text, and aligning your photos has never been easier! The Print Shop Mac's handy tool set empowers you to be your creative best.
Key features in The Print Shop Mac:
Personalize your designs with powerful One-Click picture editing tools
Make the design the focus with the intuitive ribbon interface
160,000+ Clip art images for any occasion
10,000+ Royalty-free images for business or home
4,500+ Templates for meetings, greetings, or just fun
400+ Royalty-Free Templates to make your business stand out
Snap and Guide Manager to put everything just where you want it
Dynamic headline creation with all the tools to make your statement stand out
Organize and personalize with the address book for mailing, labels, and seasonal cards