Ultimate design bundle - The Print Shop Deluxe 6.4, The Creativity Collection 3, Graphic Design Studio - Download
Unleash your creativity with the Ultimate Design Bundle! This Ultimate Design Bundle Contains:
1. The Print Shop- 'The #1 selling Print Productivity Software'
- 4,800+ professional designed templates
- 193,000+ clip art and photo options
2. Create beautiful graphic and vector illustrations
3. Personalize Your Projects with over 5500 Inspiring Royalty-Free Images
Put your imagination to use and we'll take care of the rest
The Print Shop Deluxe is a creative design suite that's perfect for use in your home or small business. Whether you're a community organization wishing to reach out to the members, a small business owner looking for templates, or designer looking to create impressive ad materials, The Print Shop Deluxe is perfect for you. Tap into your creative juices with help from our thousands of templates, images, and photos to create something truly unique.
The Easiest Way to Create Sophisticated Design Projects
Making your own sophisticated design is a cinch with the Print Shop. No design experience necessary! We encourage a playful approach so you can see for yourself how easy it is to create something unique and professional in three easy steps:
| | |
| --- | --- |
| 1. Pick a design. Choose the perfect style from thousands of our templates. | |
| | |
| --- | --- |
| | 2. Make it personal. Bring the design to life with your own logos, photos, images, phrases, and colors |
3. Share with Print on Demand. Turn your special design into a final product – print at home, the office, or choose from your own professional printing options to share your project.


New and updated features in The Print Shop Deluxe 6.4
Enhanced User Interface
Improved Ready Made Project Search
New Customized Print Options
Enhanced Print Wizard
Spell Check
New Quick Access to Most Used Functions
Now we are offering 100 new Christmas offline templates with installer, so these 100 template will not use the server and load rapidly
Key features in The Print Shop Deluxe 6.4!
Print and design easily with Avery templates
Automatically size an imported graphic to its original size
Enhanced ability to resize and edit several objects at once
Align objects with our snap-to-grid functionality
New event management capabilities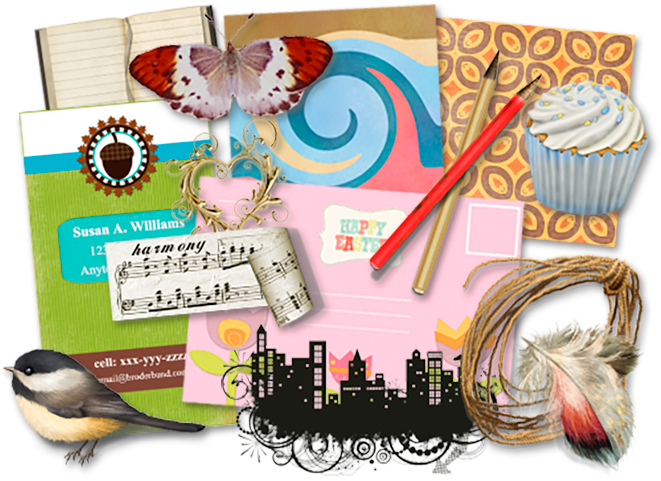 Create any project for business, personal, or family fun – here are a few ideas!
Brochures
Signs
Post Cards
Business Cards
Greeting Cards
Envelope
Invitations
Labels
Certificates
Calendars
Business reports
Social Media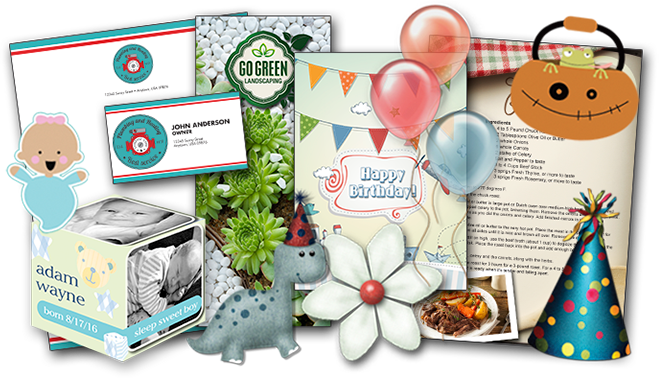 Home Office Partner:
The Print Shop Deluxe is here to help. From the event you're organizing, to the meeting calendar you're designing, to the brochures you'll leave with new clients, The Print Shop Deluxe is ready to make work easier while telling your story. With 193,000+ clip art and photo options and over 4,800+ templates, you can rely on the Print Shop to give your ideas a unique and professional flair.
Easy-to-use design tools!
Have the perfect picture but need to clean it up a bit? A built-in photo editor is a powerful tool that makes precise, easy edits. Erase blemishes, correct red-eye, adjust color, and more!
If the message is key to your design, browse the many text effects to create exactly the look you need. Bold, powerful, modern, simple, sophisticated – achieve any look with text tools like gradients, drop shadows, block letters, 3D effects, shapes, and more.
Whether you are a community organization wishing to reach out to members, small business owners looking for templates, or a wannabe designer looking to create impressive ad materials, The Print Shop Deluxe is incredibly flexible and ready to make some design magic.
Graphic Design Software for Any Novice or Pro
Quickly turn yourself into an artist as you create professional looking vector art and graphic designs for your business, or simply for fun. Graphic Design Studio packs the power of creating vector graphics into an easy-to-use app, and also gives a creative starting point to your projects by including pre-designed vector artwork, royalty free vector graphics, images and more.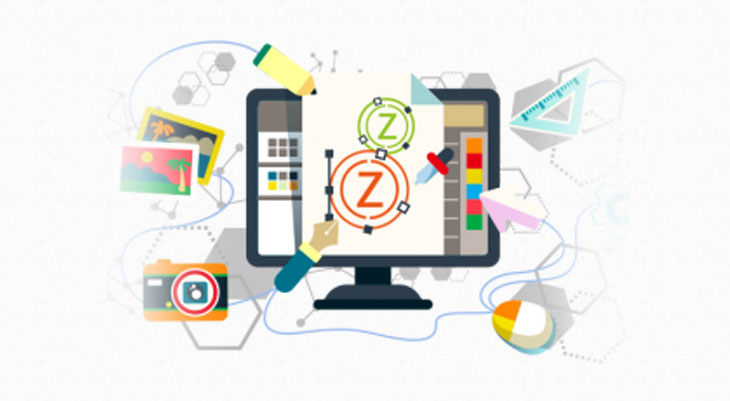 Use Graphic Design Studio to design web buttons, drawings, icons, logos, tattoos, banners, email and website graphics, cartoons, text art, posters, t-shirt designs, or anything else your creative mind comes up with. The software is designed to meet the needs of both new and experienced graphic designers, making it easier to quickly create graphics for any project at home or for business.
Graphic Design Studio is perfect for seasoned graphic design professionals or newbies and supports SVG, PDF, PNG, JPEG, BMP, TIFF, GIFF, EPS and more.
Vector illustration tools in the software allow you to scale designs to any size without losing their sharpness and clarity, and import and export SVG files that remain fully editable by Graphic Design Studio or any other vector editor (Adobe Illustrator, for example). You can even make your design background transparent to easily blend in on any web or print-based project.
Features and Benefits
create beautiful graphic and vector illustrations on your PC
You don't need to be a graphic design professional to create incredible looking artwork for any print or online project. Simply use the powerful vector drawing tools to sketch out your design, or import a vector graphic in SVG format to add your own creative touch. Beginners to graphic design can get started quickly by using any of the 300+ pre-designed, royalty free design ideas and graphics without the hassle of starting from scratch.
Graphic Design Studio makes it easy to draw an unlimited number of new designs and graphics that can be used for any personal or business project.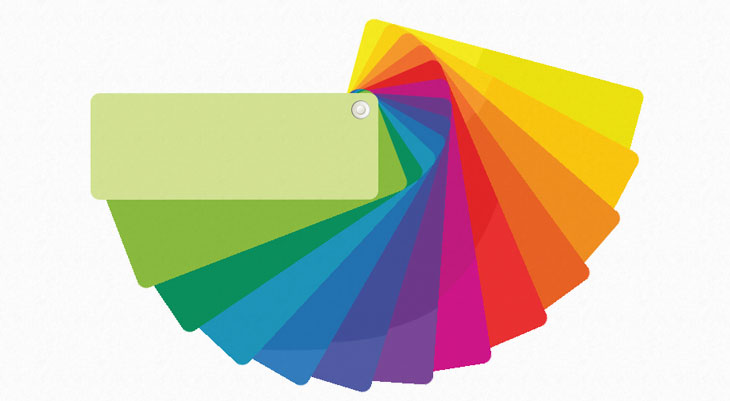 Includes tools the pros use:
Powerful Bezier editing tools
Boolean operations to create new shapes
Create text art and add text to any path
Full support for SVG files, including import and export
Knife tool to slice graphics on the canvas
Eraser tool to remove parts of graphics
Blend tool to create 3D tunnel effects and unique shapes
Component Library to save and reuse new graphics you create
Full layer support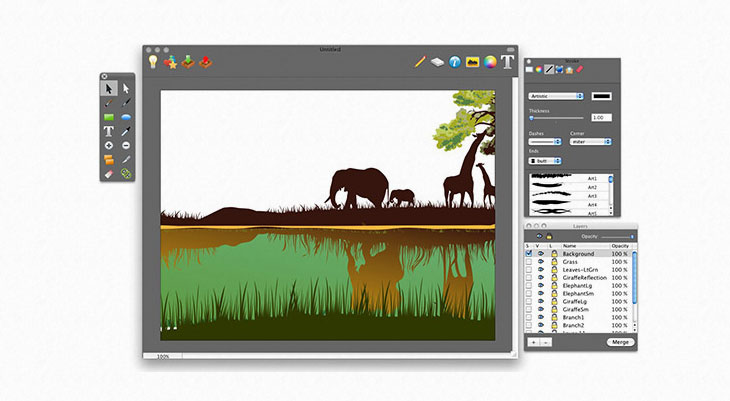 Includes easy features for beginners:
300+ pre-designed vector graphics and royalty free images
120+ creative filters and effects
15 commercial use fonts
Royalty free photos and images
Creative background and fill textures
Solid, text and artistic strokes for added style
Automatically smooth choppy freehand drawings
Artistic color palettes and gradients
Instant alignment tools
Detailed help guide
Personalize Your Projects with Inspiring Images
Enjoy creating your crafting projects in digital form. A selection of more than 5,500 royalty-free images and graphics makes putting together projects easier. Find the perfect clip art image or background for any creation. The Creativity Collection 3 has all the decorating essentials for digital scrapbooks.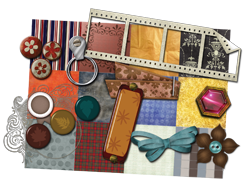 New! Scrapbooking images: ribbons, papers and other trimmings
New! A total of 5,500 Clip art images and backgrounds
All Royalty Free and suitable for commercial or personal use
Your Digital Scrapbooking Supply Kit
Pick from a super selection of stock images, including, ribbons, papers, textures, shapes, symbols, flowers, animals, people, holiday items and seasonal features plus other embellishments. Putting together attractive layouts has never been easier. Discover everything you need to make your projects shine.
Be inspired
Create concepts and sketches
Do dazzling designs
Try different looks, no wasted supplies
Perfect your projects
Become an digital artist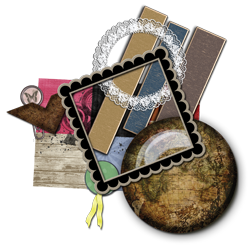 Create Keepsakes
A picture's worth 1,000 words and the The Creativity Collection 3 has that and more in store for you! Pleasing pictures make all the difference, whether your project is a personal journal or a shared heirloom of memories. Let your creativity go and build a rich visual experience for all your projects, including:
Scrapbooks
Journals
Stickers and Labels
Greeting Cards
Invitations
Calendars
Other Crafts and More!
Letterhead and Envelopes
Newsletters
Scrapbooks
Signs
Stickers and Labels
And Many More!
Royalty-Free Images for Business*
If you are creating designs that you are selling or using as part of your business, then The Creativity Collection Volume 3 is for you! This premium collection of royalty-free images is perfect for advertisements, brochures, posters, business cards or other commercial needs. Expand your design possibilities like never before with The Creativity Collection Volume 3 today!